How to download the invoice as a PDF
Overview

You may need to download and print a copy of the invoice. You can also download and send it to a 3rd party or alternate email.

Click Invoices

Click the gear icon for the invoice

Click Download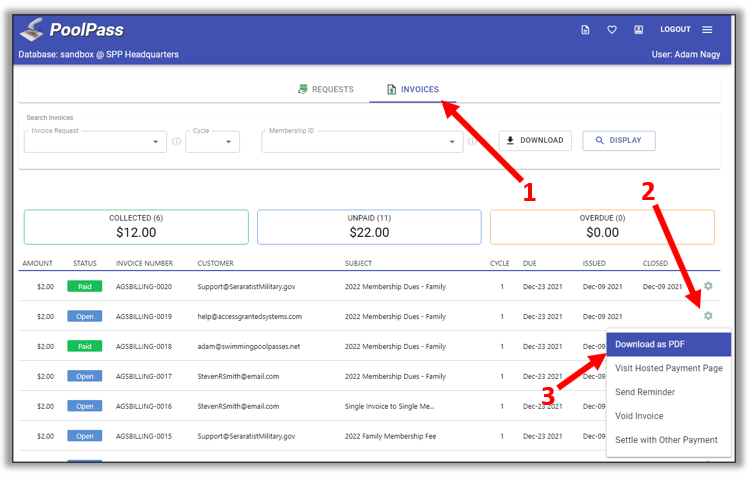 Related Articles

How to void an invoice

Overview Voiding an invoice will close the invoice without collecting a payment or triggering any on-payment actions. Here is How Click Invoices Click the gear icon of the invoice Click Void Invoice

How to cancel a recurring invoice or stop a scheduled invoice

Overview You can cancel a recurring invoice or stop a scheduled invoice that has not been created yet. Here is How Click Requests Click the invoice you wish to cancel Click the red stop icon

How to create a recurring invoice

Overview Organizations may send their members recurring invoices. Here is How Select the interval in the Recurrence field. To send the invoice only once, leave as Never.

How to use membership types to invoice

Overview Organizations may charge different membership fees for different membership types. The field called TYPE is intended to label different membership types within your organization. Utilize this feature to send different invoices to different ...

How update an expiration date upon a paid invoice

Overview When a member pays an invoice, actions can be triggered to automate administrative tasks. Actions include: Send an email Set a new expiration date Unsuspend membership Increment guest passes (virtual guest passes) Here is How
Popular Articles

ePasses - Instructions for Patrons

Overview An ePass is a special file (.pkpass) you can store in a Wallet app on a mobile device. Display them to the attendant to gain access to your facility. How do I get my ePasses? Your community will send them to you by email. Check your Inbox ...

What is the recommended hardware?

Overview Our clients use a variety of PCs, smart phones, tablets, 2D QR barcode scanners, operating systems, and web browsers to access our services. Hardware We recommend using a PC running Windows 11 to access our web portal via Microsoft Edge ...

How to sell a 5 punch guest pass

Overview Patrons will purchase this ticket at the marketplace. These are the recommended settings for communities that wish to sell a guest pass that can be used up to five times. Five single use passes are issued but must be purchased in lots of ...

How Applications Work

Overview Patrons may request access to your facility by completing an application. Features Online Submissions Paper Submissions (if enabled) Custom Built Membership Types Collect Waivers Collect Unique Facility Information Collect Fees & Payments ...

How to upload your member list

Overview Administrators can upload their patrons (members) into the PoolPass software in bulk. Here is how Get your member list ready for upload. A properly formatted CSV (comma separated value) file is need to import members. Most spreadsheet apps ...