How to EXPORT the application data
You may export the application data.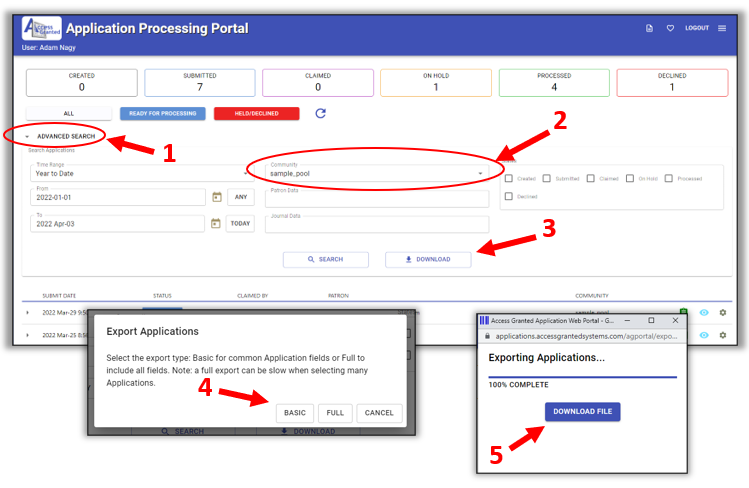 Click ADVANCED SEARCH

Select your community

Click DOWNLOAD

Click BASIC or FULL

Click DOWNLOAD FILE

Related Articles

How to DECLINE an application

Overview To help organize your application submissions, there are several states or status an application can have. The intended use of the declined status is the application will never be approved. Here is how 1. Claim the application by ...

How to PROCESS an application

Overview Organizations that utilize our software have different procedures, policies, and approval process. An AGS account representative will write custom instructions for your unique community. Custom instructions will include which buttons ...

How to FLAG an application

Overview Flagging sends an email alert to your community's administrator or Access Granted Systems, LLC. Flagging to AGS will open a support ticket an AGS team member will resolve. Here is how Click the gear icon Click Flag to Community or Flag to ...

How to PROCESS a paper application

Overview Organizations may allow their members to submit a paper application rather than the online application. In this case, you do not use the application portal to process the paper application. Add the members directly into the PoolPass ...

How to VIEW application notes and journal

Overview Anytime an application's status changes or note is added to an application, a journal entry is created. This helps users trouble shoot applications and provide patron support. Here is how Click the arrow to the left of the ...
Popular Articles

ePasses - Instructions for Patrons

Overview An ePass is a special file (.pkpass) you can store in a Wallet app on a mobile device. Display them to the attendant to gain access to your facility. How do I get my ePasses? Your community will send them to you by email. Check your Inbox ...

What is the recommended hardware?

Overview Our clients use a variety of PCs, smart phones, tablets, 2D QR barcode scanners, operating systems, and web browsers to access our services. Hardware We recommend using a PC running Windows 11 to access our web portal via Microsoft Edge ...

How to sell a 5 punch guest pass

Overview Patrons will purchase this ticket at the marketplace. These are the recommended settings for communities that wish to sell a guest pass that can be used up to five times. Five single use passes are issued but must be purchased in lots of ...

How Applications Work

Overview Patrons may request access to your facility by completing an application. Features Online Submissions Paper Submissions (if enabled) Custom Built Membership Types Collect Waivers Collect Unique Facility Information Collect Fees & Payments ...

How to upload your member list

Overview Administrators can upload their patrons (members) into the PoolPass software in bulk. Here is how Get your member list ready for upload. A properly formatted CSV (comma separated value) file is need to import members. Most spreadsheet apps ...