How to return funds back to a ticket
An administrator can issue a refund and add funds back to a ticket. This is common if a patron returns am unused concession item and requests a refund.

Here is how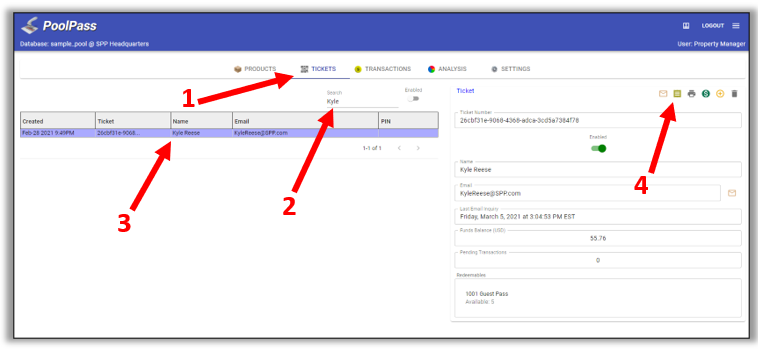 1. Click Tickets

2. Search and find the ticket

3. Click the ticket to highlight the ticket

4. Click the transactions icon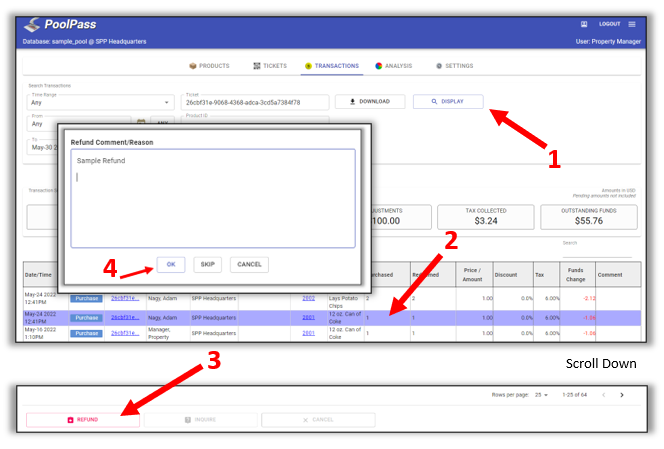 1. Click Display or search for the transaction you intend to refund

2. Click the transaction you wish to refund

3. Click Refund

4. Write a comment or reason and click OK
Related Articles

How to create a custom ticket

Overview This article provides explanation of each marketplace field and its intended use. Settings Blue information icon: Hover your mouse over the i. This is an auto-populated information tab. This text will provide patrons guidance when ...

How to issue a refund back to the patron's credit card?

Overview Refunds that issue money back to a patron's credit card must be completed by Access Granted Systems, LLC. CLICK HERE to open a support ticket.

How to issue a ticket to patron without the patron completing the transaction

Overview An Administrator can issue a ticket without the patron completing a credit card transaction. They can issue a ticket and add funds the patron can use at a later date. They can issue a ticket and add a redeemable product the patron can use at ...

How to sell a party ticket

Overview Patrons will purchase this ticket at the marketplace. These are the recommended settings for a classic pool party you wish to sell tickets for. Settings ID: A unique # (ex: 12345678) Name: Party Ticket Category: Description: Purchasing ...

How to process a direct sale (concession sales)

Overview These instructions are for when patrons wishes to purchase a product using their cash balance. They will present a ticket to be scanned. If valid, the ticket will have at cash balance. How to process a direct sale Open the PoolPass ...
Popular Articles

ePasses - Instructions for Patrons

Overview An ePass is a special file (.pkpass) you can store in a Wallet app on a mobile device. Display them to the attendant to gain access to your facility. How do I get my ePasses? Your community will send them to you by email. Check your Inbox ...

What is the recommended hardware?

Overview Our clients use a variety of PCs, smart phones, tablets, 2D QR barcode scanners, operating systems, and web browsers to access our services. Hardware We recommend using a PC running Windows 11 to access our web portal via Microsoft Edge ...

How to sell a 5 punch guest pass

Overview Patrons will purchase this ticket at the marketplace. These are the recommended settings for communities that wish to sell a guest pass that can be used up to five times. Five single use passes are issued but must be purchased in lots of ...

How Applications Work

Overview Patrons may request access to your facility by completing an application. Features Online Submissions Paper Submissions (if enabled) Custom Built Membership Types Collect Waivers Collect Unique Facility Information Collect Fees & Payments ...

How to upload your member list

Overview Administrators can upload their patrons (members) into the PoolPass software in bulk. Here is how Get your member list ready for upload. A properly formatted CSV (comma separated value) file is need to import members. Most spreadsheet apps ...